If you are an outdoor enthusiast, travel the road less traveled in a Dutchmen Kodiak Travel Trailer for sale at United RV located in Fort Worth, Texas. Kodiak Travel Trailers are lightweight making them easy to tow and saves you money at the gas pump whether you drive a Crossover, SUV or a Truck. Dutchmen Kodiak Travel Trailers come in various brands and floorplan options to cater to any camping adventure. Popular brands include the Kodiak SE, Kodiak Cub and Kodiak Ultra Lite.
The Kodiak SE is comfortable and has many features and amenities that make each camping trip unique, including an outside refrigerator and a hidden pantry. The Kodiak Cub can comfortably sleep up to 8 and is made of aluminum making it lightweight and easy to tow for most vehicles. The Kodiak Ultra Lite includes queen size beds in all floorplans and includes solar power roofing.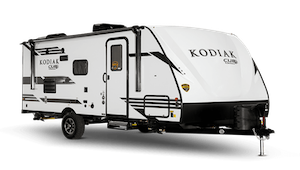 Have questions? Contact us today or visit us today to walk-through one of our many Kodiak Travel Trailer Floorplans in-stock and available on our lot just west of Dallas now!